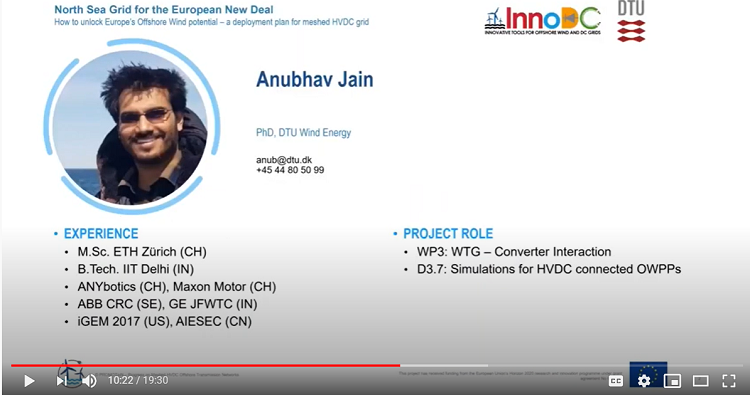 Early on in his PhD, Anubhav Jain introduced himself to the team working for the Horizon 2020 project, PROMOTiON. He attended meetings at Ørsted (Copenhagen) and participated in discussions leading to one of its project deliverables – mainly on scenario considerations and simulation test case definitions. The experience exposed him to the industrial perspective and helped him understand technical jargon. He was able to develop models to perform simulation studies of interest to his PhD, and simultaneously contribute to PROMOTiON's work on 'Blackstart simulations for HVDC-connected offshore wind power plants'.
In December 2019, he helped manage PROMOTiON's network meeting at DTU, which included plenary sessions and work package meetings. In addition to networking with many researchers and experts from the same field, this allowed him to exchange ideas and contribute to discussions. He received valuable feedback about his results, which he presented in the Breakout Session on Offshore HVDC Grid Technology at the PROMOTiON Final Conference, moved online due to Covid-19. Watch his presentation below.
He benefited from the experience – not just through collaborative work and an expanded network – but by strengthening his online presentation and recording techniques, which have recently become essential skills.